-50%
OGD3 Vegetable & Fruit Nutrient Fertilizer-5kg
₹1,300.00
Discount : 50%
You Save : ₹650
It is an innovative scienti‹ically formulated vegetable grade fertilizer. Product has been developed by natural and organic components. Hence, it is a best class product to increase the number of fruits from per plant.
| SL.NO | NUTRIENT | PERCENTAGE |
| --- | --- | --- |
| 1 | Nitrogen | 3% |
| 2 | Phosphorus | 4% |
| 3 | Potasium | 14% |
Qualities
It enhances the quality and quantity of fruits.
It Increase the number of Flowers& fruits. Moreover, prevents fruit & flower drop.
Stimulate root formation. Enhances plant growth, Balanced nutrition, quality and protects from diseases & pests.
It is easy to use and very effective. Improvises soil and aerates it through natural processes.
It is having all the nutrients in balance proportion required to enhance the fruiting. Hence, Increase the fertility of the soil
It contains high-quality organic ingredients viz. plant and animal wastes and natural organic minerals
It Enhances plant growth and increase the immunity to fight withpests, drought, frost and other diseases.
Improves soil health. Formulated to loosen heavy soils and enhance water retention.
Provides all essential micro and macro nutrients for fruit formation.Slowly and continuously releases nutrients for almost a month after 100% the applying to the soil. It also NATURAL keeps the soil nourished.
Doses
1. Loosen the top layer of the soil to the depth of 1 inch around the plant.
2. Apply about 15g of OGD3 for each pot and mix the soil.
3. Water enough to moist the media immediately.
4. Repeat the process once in 30 days.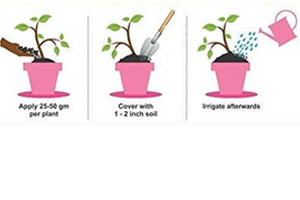 Care Instructions
Keep the pouch in the dry area.
Do not keep the pouch open for a long time.
The pouch should be tightly closed and stored in dry space after use.
Keep out of reach of children.
If swallowed, seek; take medical advice
Best Offers
100% Safe
Secure Shopping
Free Technical Advise
Online 24 hours
Shipping All Over India
On all order over