-25%
OGD8 Vermicompost Fertilizer-2kg
₹110.00
Discount : 25%
You Save : ₹28
It is an innovative scienti‹ically enhanced vermicompost fertilizer. It is a humic-acid rich compost prepared by decomposition of organic waste by earthworms. Hence, OGD 08 Vermicompost is used as a soil additive, conditioner, and fertilizer.
| SL.NO | NUTRIENT | PERCENTAGE |
| --- | --- | --- |
| 1 | Nitrogen | 2% |
| 2 | Phosphorus | 2% |
| 3 | Potasium | 1% |
Qualities
It functions to add humus and organic matter to the soil providing bioavailable nutrients to the plants, increasing soil tilth.
It helps with water infiltration and retention, while buffering excessive acid or alkaline soil conditions.
It helps store nutrients and keeps them safe from leeching and irrigation.
Benefits
Enriched with organic plant nutrients.
Improves soil quality.
Helps to balance soil pH.
Completely organic product.
100% Chemical free.
It is free flowing easy to apply.
'
1. For new plant take one part of vermicompost and mix with 3 part of Organo Green Delight-Potting Soil (OGD 09).
2. For Potted plant apply 150-250gms OGD08 at the plant base, away from mail stem,3-4 time in a year.
3. Lewns: 2-4kg in the ground per 100sq. feet every month
4. Used for organic nursery, green house, home gardens, kitchen garden, root terrace gardens, tissue culture, flowers, vegetables.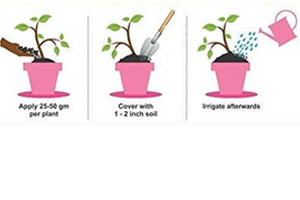 Care Instructions
Keep the pouch in the dry area.
Do not keep the pouch open for a long time.
The pouch should be tightly closed and stored in dry space after use.
Keep out of reach of children.
If swallowed, seek; take medical advice
Best Offers
100% Safe
Secure Shopping
Free Technical Advise
Online 24 hours
Shipping All Over India
On all order over