-55%
OGD1 Flower & Plant Nutrient Fertilizer-10kg
₹2,100.00
Discount : 55%
You Save : ₹1155
It is an innovative scientifically formulated flower grade fertilizer. Product has been developed by natural and organic components. Hence, it is a best class product to increase the number of lowers Per plant.
| SL.NO | NUTRIENT | PERCENTAGE |
| --- | --- | --- |
| 1 | Nitrogen | 3% |
| 2 | Phosphorus | 14% |
| 3 | Potasium | 3% |
Qualities
It enhances the quality and quantity of flowers
It is easy to use and very effective.
It is having all the nutrients in balance proportion required to enhance the flowering.
This fertilizer can be used for flowering plant or to increase the flowering of any type of plant. Eventually, maximizes fruit formation
It contains high-quality organic ingredients viz. plant and animal wastes and natural organic minerals.
Enhances plant growth and increase the immunity to fight with pests and diseases
Improves soil health.
Provides all essential micro and macronutrients
Slowly and contentiously releases nutrients for almost a month after the applying to the soil. It alsokeeps the soil nourished.
Apply 40-50 gm before watering the plant during early morning or late evening per pot (Medium size). Per Plant Water the plants immediately after the application. Apply the product after every 2 weeks.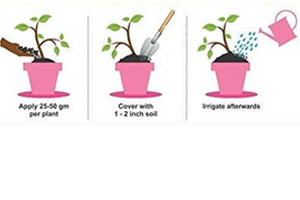 Care Instructions
Keep the pouch in the dry area.
Do not keep the pouch open for a long time.
The pouch should be tightly closed and stored in dry space after use.
Keep out of reach of children.
If swallowed, seek; take medical advice
Best Offers
100% Safe
Secure Shopping
Free Technical Advise
Online 24 hours
Shipping All Over India
On all order over