-55%
OGD6 Booster Vegetable & Fruit Fertlizer-10kg
₹2,970.00
Discount : 55%
You Save : ₹1634
It is OMRI listed, naturally mined crystalline mineral provides your soil with the water-soluble sulfate form of potassium, magnesium and sulfurs. These three plant nutrients are key to growing high quality plants and when offered in the form of OGD 06 your plants will benefit from its unique qualities:
| SL.NO | NUTRIENT | PERCENTAGE |
| --- | --- | --- |
| 1 | Nitrogen | 0% |
| 2 | Phosphorus | 0% |
| 3 | Potasium | 22% |
Out of stock
Qualities
It enhances the quality and quantity of fruits.
It Increase the number of Flowers& fruits. Moreover, prevents fruit & flower drop.
Stimulate root formation. Enhances plant growth, Balanced nutrition, quality and protects from diseases & pests.
A maximum chlorine content of 1.4% that reduces the danger of fertilizer burn.
The fine particles of this standard grade has a typical SGN of 260, which makes for superior solubility and uptake.
A neutral pH that will not alter microbial activity or nutrient availability in soil.
Excellent way to strengthen root systems, improve plant immunity and balance nutrient levels in the soil.
OGD 06 is highly recommended for use on delicate fruit and vegetables crops.
Approved for organic production.
Improves soil health. Formulated to loosen heavy soils and enhance water retention.
Provides all essential micro and macronutrients for fruit formation.
Slowly and contentiously releases nutrients for almost a month after the applying to the soil. It alsokeeps the soil.
Doses
Vegetable Gardens & Flower Beds –
New Garden Prep – Apply 0.5-1 kg per 100 sq. ft. and thoroughly mix into the top 3″ of soil.
Established Plants – Side dress 1-2 tbsp. per plant, depending on size of plant, once each during the growing season.
Containers –
New Plantings – Mix 1 tbsp. per gallon of soil and mix thoroughly or add 0.5-1kg. per 100sq. ft.
Established Plants – Lightly mix 1-2 tsps. per gallon into the soil surface every other month during the growing season.
Trees & Shrubs –
Established Trees – Spread ½-1 lb. per 1″ of trunk diameter around the base outwards to the drip line, mix into soil surface and water in well.
For new trees, prepare transplant hole and mix ¼-½ cup with the backfill soil. Use amended soil to fill in around the new tree and water in well.
Suggested Uses
For use as a fertilizer on a variety of crops in flower beds, vegetable gardens, rows and containers. Can also be used on trees and shrubs.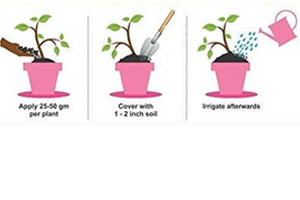 Care Instructions
Keep the pouch in the dry area.
Do not keep the pouch open for a long time.
The pouch should be tightly closed and stored in dry space after use.
Keep out of reach of children.
If swallowed, seek; take medical advice.
Use of a dust mask is recommended for application of any dry fertilizer product.
Best Offers
100% Safe
Secure Shopping
Free Technical Advise
Online 24 hours
Shipping All Over India
On all order over