-40%
OGD5 Booster leaf & Lawn Fertilizer-1kg
₹297.00
Discount : 40%
You Save : ₹119
It is an innovative scientifically enhanced booster leaf and lawn fertilizer. It is having very high nitrogen for vegetative growth.
| SL.NO | NUTRIENT | PERCENTAGE |
| --- | --- | --- |
| 1 | Nitrogen | 13% |
| 2 | Phosphorus | 8% |
| 3 | Potasium | 2% |
Out of stock
Qualities
It provides fast/better growth and healthier leafy plants and lawn.
Much better root development happens by adding this fertilizer.
It enhances the quality and quantity of leaves.
Enhances much improved plant growth and increase the immunity to fight with pests and diseases
Slowly and contentiously releases nutrients for almost a month after the applying to the soil. It also keeps the soil nourished.
Benefits
Enriched with organic plant nutrients.
Improves soil quality
Helps to balance soil pH
Completely organic product
100% Chemical free
It is free flowing easy to apply.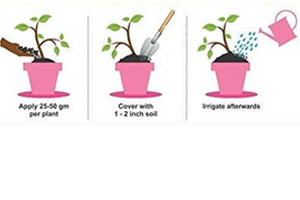 Dosage
Leafy Vegetable Gardens & Flower Beds
Apply 0.5-1 kg per 100 sq. ft. and thoroughly mix into the top 3″ of soil for establishing new garden and top dressing in every month for regular growth.
Containers
Mix 50 gms fertilizer per gallon of soil and mix thoroughly for new plant and top dressing in every month for regular growth.
Precautions
Apply this fertilizer during early morning or late evening. Water the plants immediately after the application.
Sprinkle Lawn Fertilizer on dryday.don't sprinkle on heavy rainy day
Sprinkle Lawn Fertilizer on dry day.
don't sprinkle on heavy rainy day.
Care Instructions
Keep the pouch in the dry area.
Do not keep the pouch open for a long time.
The pouch should be tightly closed and stored in dry space after use.
Keep out of reach of children.
If swallowed, seek; take medical advice
Best Offers
100% Safe
Secure Shopping
Free Technical Advise
Online 24 hours
Shipping All Over India
On all order over